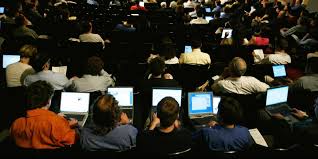 3 New Video Trends Show Why You Need Online Video
Still wondering if you should add video to your website?
You might be missing out on reaching a large part of your audience if you're still on the fence. Check out some of the current trends related to online video:

Who has time to sleep?
ComScore Media Matrix announced that in July 2012, 184 million U.S. Internet users watched 36.9 billion online content videos. As Greg Jarboe from Search Engine Watch points out, that's an average of 200 videos for around 22.3 hours. With the average American watching 36% more videos today than they did five years ago, it's hard to deny that video is the future of social marketing.
Where do you get your information?
How do voters prefer to consume video? Not by live TV, SAY Media's "Off the Grid 2012" report argues. The study reports that more than 40% of likely voters prefer their information via computers and streaming devices instead of live TV. Add a video to your website to convey information clearly and conveniently to your audience.
Online Shopping
Google and Compete studied the online shopping community and discovered that video has become an integral part of shopping behavior. 37% of people now watch videos on retail websites before making a purchase. One of the emerging trends involves 'haul' videos and 'vloggers' who post about their latest purchases. A number of vloggers have thousands of subscribers and millions of views on their YouTube channels.
One of the best strategies in marketing is to find the consumers and meet them where they are.
Upload a video to Oculu to add to your site and start reaching your consumers today.