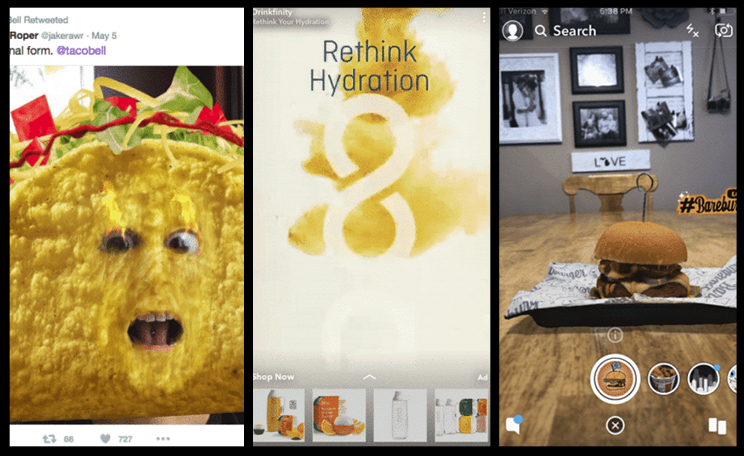 Social Media Advertising for Video: The Overlooked Frontiers, TikTok & Snapchat
Advertising using video on social media is nothing new, we know this. And there is certainly not a lack of research gone into studying the success of video ads on social media platforms. However, when people think about advertising on social media, typically, they're thinking about platforms such as Instagram and Facebook. In fact, most of the research done has focused on those two platforms in particular. And we can't blame advertisers for instinctively going to the two, because most people of all ages are on Instagram and/or Facebook.
But, we're here to bring to light two other social media platforms that don't get as much attention but deserve all the praise nonetheless, TikTok and Snapchat. First things first, yes, you can advertise video on both — which is a fact that not all advertisers today are fully aware of. We can attribute this lack of consideration to the younger demographic on both platforms that most older adults don't engage in, which we will expand on shortly.
For those of you not fully in the loop on the ins and outs of TikTok and Snapchat, here's a brief introduction to these two platforms that will ultimately change your advertising strategy for the better.
TikTok
TikTok is a short-form video-sharing app that allows users to create and share 15-60 second videos of almost any kind and about seemingly anything (as long as it follows community guidelines). On the app, you can expect to find videos of relatable scenarios, dance trends, pop culture commentary, stand up comedy, music, pranks, educational lessons, and so much more!
The app has reportedly amassed over 500 million monthly active users, the US being the most popular country to indulge with over 80 million app downloads! This means that there are millions of people all over the world creating content, and more commonly, viewing content for entertainment.
This is great news for advertisers because luckily the app is open game for advertisers, especially ones looking to serve video ads. In fact, the app doesn't even have space for traditional display ads — the only way you can get on the app is with a video ad. This may not work for all brands, but due to the app's fast growing popularity, many brands are coming to realize the immense potential of TikTok as a marketing tool.
Snapchat
Snapchat is a mobile app that functions as a camera and messaging app that connects people to their friends, family, and the world. Initially designed for person-to-person communication vis messages and photo/video, the app has transformed over the years, making itself capable of far more. What remains the same is one of the fundamental concepts of the app, which is the feature that makes every picture, video, or message, you send – by default – is only made available to the receiver for a short period of time before it disappears. This concept was designed to encourage a more natural flow of interaction and ensure privacy between users.
But the app today is a much bigger machine. You can now use Snapchat for a range of tasks, such as sending videos, live video chatting, messaging, creating Bitmoji avatars, sharing chronological "Stories" that's made visible to all your followers. Furthermore, there is a designated "Discovery" area that showcases short-form content from several major publishers or verified accounts, such as Buzzfeed, DailyMail, Cosmopolitan, and MTV.
Similar to TikTok, Snapchat has a huge usage rate and those who like this platform, really like it. It has been reported in a survey of American Snapchat users, 46% of them claimed to visit the site several times a day, putting them just ahead of Instagram's 42% and barely behind Facebook's 51%. An average of 210 million people in the world use Snapchat every day, spending an average of half an hour a day on the site, and creating 3.5 BILLION Snaps daily.
Off the bat, this may not seem like a place with a lot of advertising options, but that is far from the truth. With Snapchat, there are a bunch of different ways to grow your brand, video ads and more! And they're each worth a shot!
If you decide to pursue either or both of these routes, its important to first understand the demographic you'd be serving your video ads to — the youth (not entirely, but mostly).
Is this right for my brand's target demographic?
If you are a business or brand looking to target a younger audience, serving ads on these two platforms is a no-brainer. If not, we can't promise optimal results due to the fact these two apps are most commonly used by teens to young adults.
On TikTok, 66% of TikTok users are younger than 30 (41% between the ages of 16-24), which is ideal for those looking to reach that age bracket of consumers. Similarly, the majority of Snapchat users are between the ages of 18-24, however as younger generations are introduced to the digital world earlier than their predecessors, younger teens are starting to become a larger demographic on the app. As of 2021, six in ten, 59% of all US internet users between the ages of 13 – 24 use Snapchat, which is ahead of the same age group on all other platforms such as Instagram and Facebook. As we get into the older age groups, the usage drops a bit as only 21% of users 24-34 are on Snapchat, which again, proves these platforms aren't necessarily worth the investment if you are targeting the above 25 crowd.
What Your Ads Could Look Like on the Platforms
If TikTok and Snapchat's primary demographic aligns with your target audience then you're all set to be debriefed on what your ads could look like on each platform and why you should consider them worthwhile investments.
On TikTok, traditional display ads are not an option as the app is a video-only platform for all, meaning your ads will have to be in the video format. If you're not aware of pre-roll video advertisements or how to create them, we recommend reading this article: so you can jump on TikTok with confidence.
Since the platform is video ad specific, your ad could appear on the platform in two different ways — as ad takeover or an in-feed ad. An "ad takeover" is the first video ad users see when they open the app, taking over their entire screen with no means to opt-out, skip, or avoid. There are a limited number of spots available for this type of video ad, but it's a great option if you're looking to really get a message across and have your ad be seen to completion. The alternative and most popular option is the in-feed ad which is a video advertisement that comes up in the user's queue while they view their content of choice. This method is beneficial because it provides more direct targeting abilities as each users' feed is personalized to their online habits on the app, which we will further discuss in later sections.
On the other hand, Snapchat has more room for a plethora of different ad types and objectives. Here is a breakdown of your six advertising options on the platform:
Snap ads: these can be in the form of videos, photos, gifs, etc, and regardless of the format, will appear in full-screen in between different types of Snapchat content. These allow the user to take immediate action, such as installing an app or clicking a link to an external website. And though Snap Ads can be up to three minutes long, they perform best when they are 3-5 seconds long.
Filters: Filters contain stylized text and images that are targeted at specific demos. The filter below was developed by Quaker Oats, targeting College & Young Working Women, Convenience Seekers, Working Moms and Females in Fitness.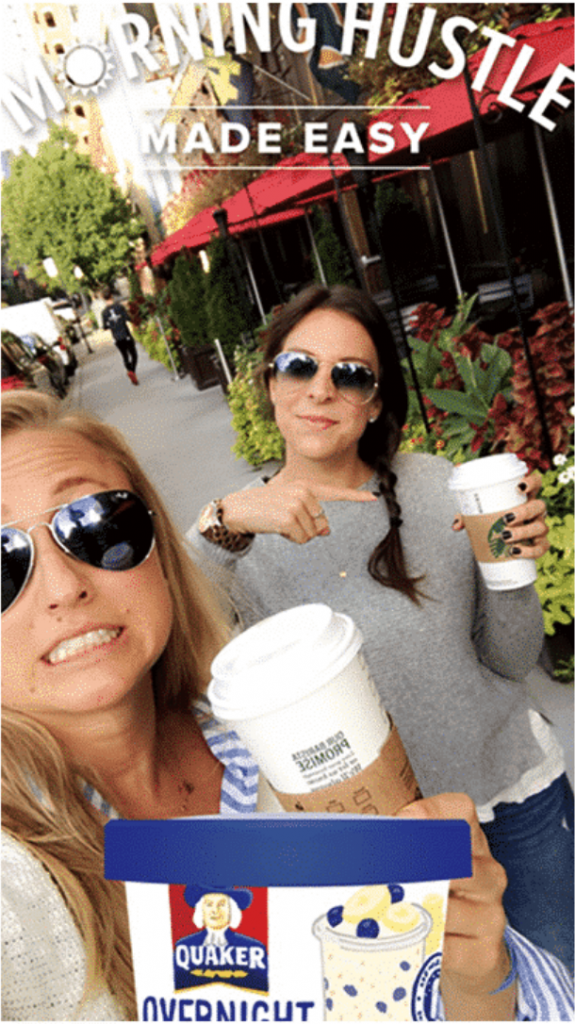 One specific advantage of filters are their ability to Geotarget if desired. The GeoFilters target geographic areas instead of specifical behavioral demographics and they can be customized to your liking. GeoFilters are particularly popular in cities, universities, and public locations, as they are able to create Geofilters for free (no brand logos).
However, your business can still create your own GeoFilters for as little as $5, the price increasing depending on the range of your desired geographic. This feature is perfect for location-specific businesses like hotels, local stores, and attractions.
Lenses: Snapchat's lenses are typically what you think of when you think of the platform, puppy ears, flower crowns, funny face effects of all kinds! Those features are called lenses.

Advertising via lenses will definitely take some creative brain power but once achieved, the results are memorable and used frequently! For example, Taco Bell created a face lense that turns camera users into a giant animated taco. How could you forget that!





You also have the power to utilize the "World Lenses," which uses the front facing camera to make it appear like objects are in your physical space. You could create a lense that shows your product or brand in users' own space. A great example of this was when Bareburger created a World Lense with one of their burgers so users could take pictures of their world with a burger on it, letting potential customers imagine their meal in a dynamic way!


Story Ads: Story Ads are a collection of Snap Ads in rapid succession for when you have video ad content more than 3 to 5 seconds. These ads will appear in the "Discover" feed the platform, where you can create a cover photo and headline to catch your viewer's eye and get them to click!
Product Ads: if you're looking to promote a particular product or service, you can use Product Ads to create a catalogue or list of services by creating a "shappable" ad. Below is an example of what an advertiser sees when creating shoppable Product Ads and an example of what viewers see when shopping.





From here, users can click the item that appeals to them and buy it straightaway from Snapchat!
Commercials: these are exactly what they sound like, your classic video commercials that can last 6 seconds and users can't skip it. The most clear-cut of all the options. (Side note: only available in certain countries)
Furthermore, if these options aren't already enough, Snapchat also has an Instant Create option and an Advanced Create option for your video advertising needs!
With Snapchat's Instant Create, you can create an ad in FIVE minutes or less, which will helo you increase website visits, drive app installs, skyrocket engagement, encourage Snapchatters to call or text your business, or attract actual visitors to your business' storefront.
And if you want more out of your Snapchat ads, you can utilize Advanced Create, which allows you to create multiple ad sets with better and more precise targeting and bidding capabilities. To add to that, you can also employ Snap Pixel to measure the impact of your ads, giving you the info you need to optimize your campaign as much as possible!
With Snapchat, there's really no limits!
And the best part is their robust analytics reporting capabilities. From Delivery Metrics to Spend Metrics to Conversion Metrics and everything in between, you'll be able to track your campaign closely and accurately so you can continue to improve your impact and ROI.
Think Programmatically
Advertising your video ads programmatically is highly beneficial for your business for a plethora of reasons — from its ease to it being high speed and performance, multi-beneficial, and precisely effective.
If you are unaware of how programmatic advertising works, here's a quick crash course!
In short, programmatic advertising uses AI and machine learning as a means to automatically buy advertising in real-time, optimizing digital campaigns, instead of harboring over human negotiations and pre-set prices.
Essentially, the overarching goal is to increase efficiency and transparency between the advertiser and the publisher. This is accomplished through a system of real-time auctions, aka Real Time Bidding (RTB) that allows advertisers to buy ads at the exact same time as a visitor loads a website – this occurs within milliseconds!
But how does this work with social media aps?
TikTok recently introduced the beta release of their new programmatic platform designed to encourage brands and their agencies to launch and manage fully scalable video campaigns across their extremely popular social media network. Similarly, Snapchat also makes programmatic video advertising easily manageable and profitable.
And since both TikTok and Snapchat are either video exclusive or video centric, both apps encourage your business to keep it short when advertising programmatically on their platforms. Most brands are used to a standard :30 second video ad and that may be your first instinct to serve your audience; however, on these platforms, videos between 10 and 15 seconds perform best and will gather you the best engagement results.
We understand that this may be too short of a time slot for your brand to say everything it needs to…but rest assured, there's still room for you. On both TikTok and Snapchat, by making a profile for your business, you can serve several chronological short videos to keep your audience coming back to your profile to watch more. This is extremely popular on TikTok in particular as many users themselves also draw in their followers with cliffhanger videos that draw viewers onto their main page.
As for Snapchat, they make programmatic advertising easy for you. All you have to do is select your objective, set your budget, targeting, and bidding method, upload your video, add your ad copy, and SUBMIT! And just like that your ad will be served, with little to no work for you or your advertising agency!
Don't Forget to Target!
Every business has their ideal target audience and the goal is to make sure that demographic is not only served their ad, but is watching it with wide eyes and interest. Luckily, TikTok and Snapchat value these goals and have programmed their apps to meet them.
On Snapchat, businesses and advertisers are able to target the Snapchat Generation based on their behaviors, location, interests, and more. You have the power to connect with an audience that is responsible for driving new behaviors and values that are changing the digital world and how we receive information and trends.
And when you advertise video on these platforms, you can be sure that viewers are actually watching your ads. Why? Well, because they have no choice… especially on TikTok.
According to Recode reports, as of April 15th, TikTok's ad policy changed which now gives users fewer opt-out options. TikTok users are no longer able to exit out of the personalized ads they are served based on the data TikTok collects from their actions on the app. The one exception to this new policy is that users will be able to opt out of ads based on data TikTok gets from third party advertising partners, which is the norm on digital spaces these days.
TikTok explains that this new policy of theirs is very much so in congruence with that of its competitors such as Snapchat, Facebook, and Twitter. Those three platforms provide no way to opt-out of being targeted based on what users do within their platforms. But one thing to note about our other platform in conversation, Snapchat, is that users on this platform can manually delete whatever interests have been assigned to them through the app if they want to minimize targeting. However, TikTok does not currently give their users this ability, making it a little more of a sure-fire way to get your ads seen.
---
We argue that its imperative to get advertising on these platforms if you are trying to grow your brand, especially but not exclusively if you're trying to reach a younger audience. Not only is it easy to do, but its equally effective in achieving your campaign goals.
But it is important that you understand the goals of your campaign before you begin. Ask yourself what exactly you are trying to achieve, whether that be an increase of views, clicks, site or storefront traffic, etc. You need to develop a strong strategy so you can test through the analytics both platforms offer to maximize your efforts and your dollar.
And if you don't have a video advertising strategy yet, give us a call, we're now offering FREE 30 minute phone consultations with our video strategy experts. Click here to sign up before slots fill up!
Before you go, if you're still not convinced about TikTok or Snapchat advertising, here are some groundbreaking stats of businesses that have achieved massive growth via TikTok in particular:
Slate and Tell: a unique jewelry brand that allows customers to personalize their accessories

Reached over 4M+ TikTok users via video advertising on the platform
ROIs increased 2x
Single session add-to-carts reached 1000

Princess Polly: a women's online fashion retailer in Australia

Reached over 9 million impressions
ROIs increased 15x
Click through rate increased to 1.05%

Playrix: an international developer of free-to-play mobile games app

Their number of players increased 87% in 3 days!
ROIs rose by 133%
Cost per in-game purchase fell by 27%
Start advertising on these platforms now so your business can be an example of success too! 
We've given you a great headstart to becoming a front runner of video advertising, but if you want even more information on the topic, we've got you covered! We're offering a free digital report created by our very own video experts that you can download today — absolutely free. By downloading our free EBook, "5 Ways Video Can Change My Business," you'll learn just how essential video is to a successful and fruitful advertising campaign for your business. From the un-negotiable importance of creating & repurposing your own video content to use for captivating advertising to which platforms are best for your video ads, our report will open your eyes and increase your business' profits & engagement.