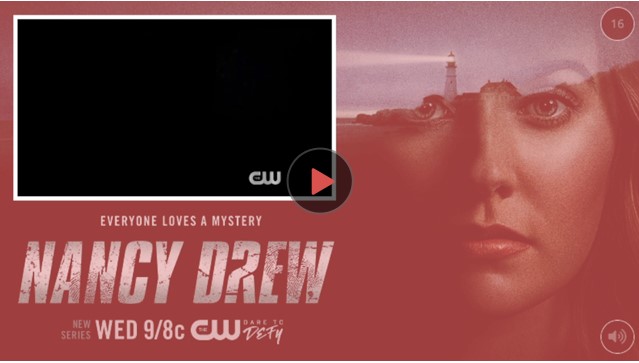 Emerging Video Formats By Oculu: Custom Skin Example

We love pre-roll. In fact, we love it so much we like to get it all dressed up so it can really stun our viewers. 
There's no denying pre-roll works well in advertising, however here at Oculu, we always want to challenge both ourselves and the industry by asking, "but, how can we make it better?"
In our opinion, and hopefully soon in yours, we have found the answer to that question: emerging formats. 
Emerging video formats look for ways to directly connect the viewer with the message. When done properly, pre-roll (connected with various graphics and engagement options) gets attention, increases view through and click through rates. 
One of those emerging formats we have utilized time and time again is the custom skin.
Custom skin is a dynamic background for pre-roll video. It works like this: the pre-roll video plays for five seconds with the overlay, then after 5 seconds the pre-roll shrinks into the screen and moves to the top right corner. After the pre-roll shrinks into the right corner it keeps playing and a full clickable image of the show/brand fills the rest of the screen as background until the pre-roll ends. Viewers can interact with your brand without interrupting the ad. This is a great way to show important information about your brand on a larger, more impactful scale.
 You can use custom skin for greater brand recognition or as a way to draw viewers to your site or service with interactive features. 
Take a look at this video we have created to see just exactly how and why custom skin works. 

Custom Skin Case Study 
Using our custom skins, we ran an ad with our client, Wholly Guacamole. Though it may seem self explanatory, the goal of the ad was to bring awareness to their product. Our plan of action was to create a custom skin that highlighted a save now and coupon opportunity, including video and clickable links.
To prove our format was superior in interactive performance, we ran A/B testing to accurately compare data. Our results were incredible, just as we expected. The standard pre-roll without the use of custom skin had a video completion rate of 78.2% on a 15 second ad, and 73.3% on a 30 second ad. Our interactive custom skin pre-roll ad, beat the former by more than 10% on each length, performing at a 88.6% on the 15 second ad, and a 84.6% on the 30 second ad. 
So when it comes down to the effectiveness of custom skin, there's no debate it's the route to take when advertising via video. 
Our numbers have proven over and over that custom skin drives ROI. As stated in our video,  Oculu's custom skin ad out-performed the pre-roll only ad in A/B testing almost doubling the CTR. You will see great results with this emerging format especially if you are looking for help with your CTR. More clicks equals more sales from your advertising. 
We hope you consider this dynamic option when creating your next ad campaign!