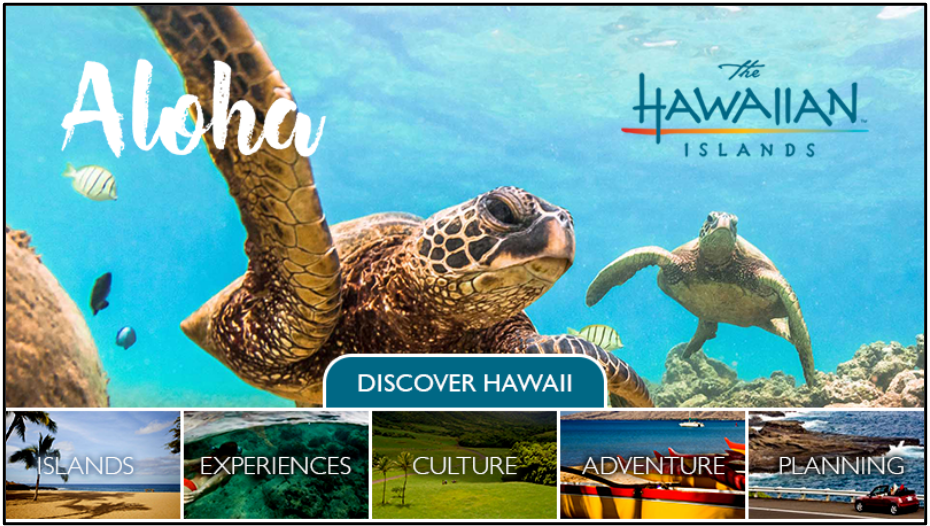 How to Capitalize on Digital Advertising in the Travel Industry
According to eMarketer, travel ranks as the sixth largest industry for ad spending in the United States. Additionally, they report that digital ad spending in the travel segment will surpass what is spent on consumer packaged goods brands in 2020. With a projected value of $13 billion, the travel industry is steadily increasing its share in the digital advertising space. In order for brands to achieve consumer recognition, they need to have a strong understanding of customer habits and the evolving trends of the industry.  

The prevalence of mobile devices is changing the way consumers shop for travel. In the past it was more common to book trips around seasons or at a key moment when a good deal was presented. Now, with the internet at the touch of everyone's fingers, people will shop for travel 24/7. Consumer strategy changed as they will browse more often for shorter amounts of time to see what kind of deals they can find. Oftentimes travelers will book multiple trips in one sitting using multiple devices. They are visiting several sites and comparing values day and night, at home and on the go. One minute someone could be scrolling through social media and before they know it they are booking a trip to Mexico! These new consumer habits coupled with the problem of heavy competition poses the question for travel industry advertisers, how do we stay successful and on trend in digital advertising? 

Stephen Taylor, writer for Sojern and Skift, reports seven ways to stay current and relevant in the travel marketing industry. We at Oculu believe these are essential for connecting with the customer through ads and taking your brand to the next level!
Personalization, loyalty and the traveler data dilemma 

Industry gets more sophisticated with social advertising 

Travel advertisers prioritize creativity 

TV and video's advertising convergence 

Automation takes over ad buying 

Multichannel and the continuous, always-on marketing strategy 

Privacy comes to the fore of the advertising debate 

One of the key points that is important to further explore is the always-on approach. As mentioned before, people are shopping year round for travel. It would be less effective to try and stick to an advertising strategy that strictly followed seasonal changes because travelers are conducting research all the time. The always-on strategy suggests that travel marketers combine maintaining a continuous digital strategy and seasonal campaigns/promotions to capture this audience that is always looking for their next trip. One of the best parts of this strategy is the ability to continuously test, learn and more accurately optimize your digital marketing. 

As the travel industry continues to evolve, so do the ways in which the advertising occurs. Currently, search holds the highest percentage of travel advertising. However, video is growing as a preferred method. This puts importance on emerging technologies as they are a growing platform expected to do well in 2020. Here's what Noreen Henry, Chief Revenue Officer at Sojern has to say about it:
 "To say the travel industry is evolving would be a gross understatement. Travel is one of the fastest growing and fastest changing industries, and there's a ton of potential for travel marketers to tap into that growth to meet their business goals. By leveraging emerging technology like interactive video, machine-learned and automated audience development, and chatbots, there's no end to what marketers can do." 

Oculu specializes in these emerging video formats. We recently introduced our emerging video formats specifically designed for the travel industry/ travel related sites that are using pre-roll. As attention spans get shorter, Oculu developed a dynamic video unit for travelers, combining pre-roll video with a weather tracker and interactive gallery to maximize interactions, all within one video unit!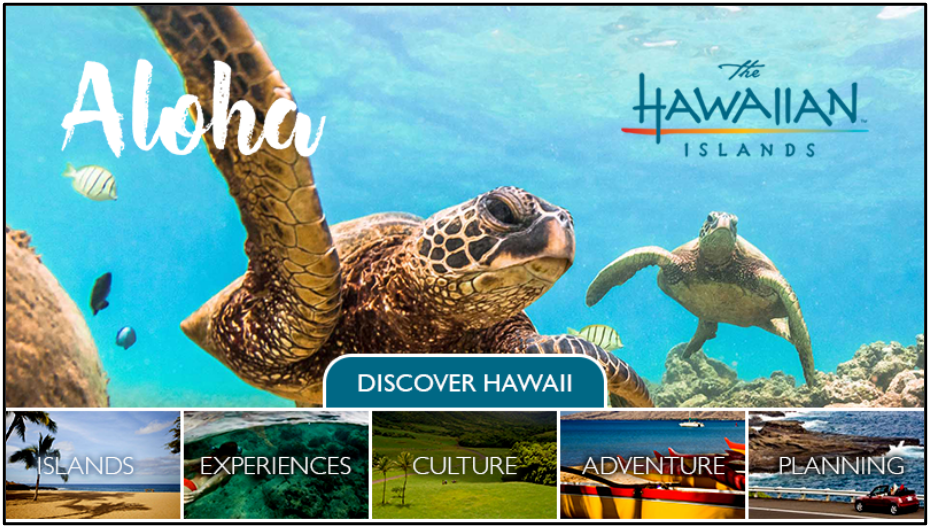 Oculu worked to generate traffic to Hawaii's major tourism spots by using a mix of pre-roll with emerging video formats:
An end slate will be presented at the end of the pre-roll that will give more information on fun activities for everyone. 

Utilize our advanced targeting capabilities by adding data layers to reach prospects. 

Leverage custom emerging video formats by creating a dynamic overlay and end cards for the pre-roll that will detect the weather in Hawaii. The weather tracker will boost consumer engagement and encourage people to travel to Hawaii due to warm weather. 

Utilize mobile best tactics to meet KPI goals and maximize VCRs and clicks. 

Provide tracking and comprehensive reporting.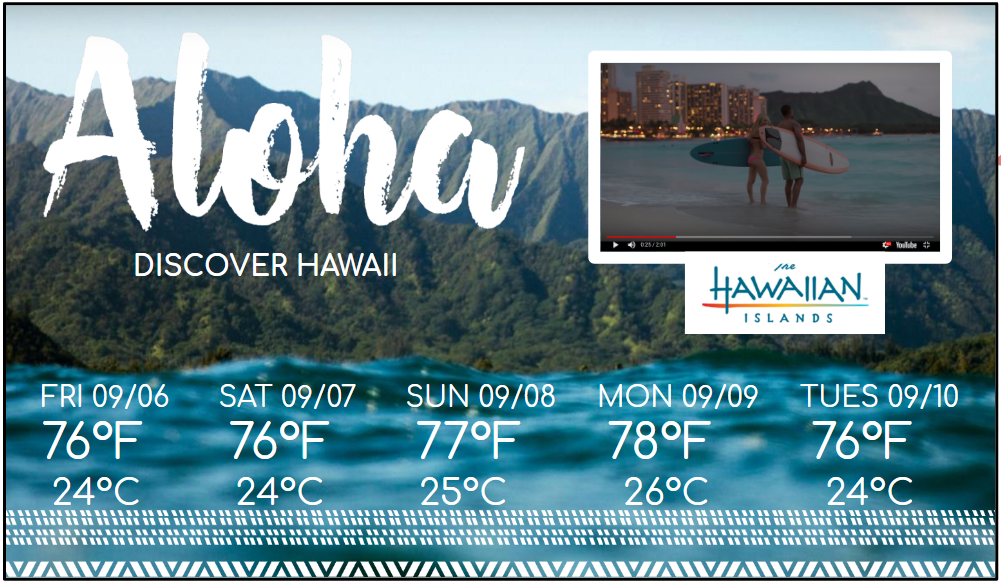 Example of the end card that appears after the pre-roll runs. We added a weather tracker that adds real time weather data ( fo desired location ) to the ad unit.Directions" – all of this activity will complement the preroll.
Vertical Video Weather Tracker for Mobile: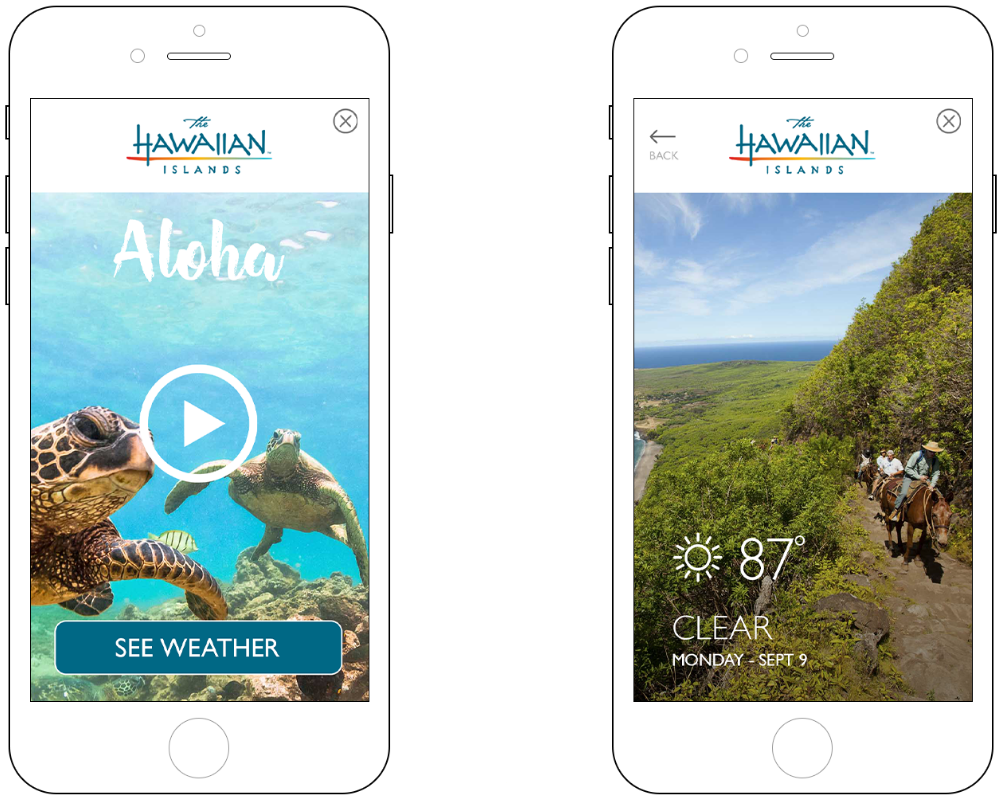 For Mobile Oculu can create a vertical video with a Weather Tracker specifically for mobile devices. The video will play vertically with the weather tracker to the side showing the forecast of the weather in Hawaii.
We will be added "Get More Info" and "See Weather" buttons to increase landing page visits and drive them to closest location – all of this activity will complement the preroll videos.
See example of how this works and all of our emerging formats here: https://gallery.oculu.com