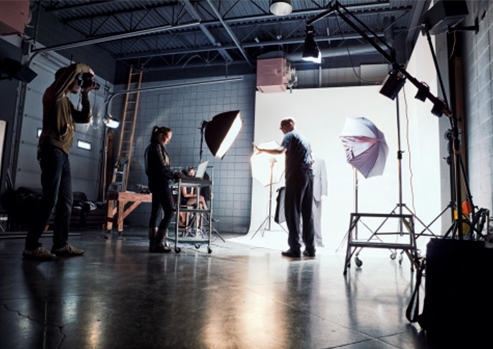 How To Work With A Filmmaker When Creating An Online Video
The following is a guest post blog from Justin Park at Vidaao.
Outsourcing the creation of video content for your business can be a tremendous time saver. Experienced professionals provide the skills to create effective videos and relieve you of the time-consuming task of learning the process yourself. However, there is a slight learning curve to creating a video even with the help of a skilled professional, and you'll need to take a little time to learn about the process to save you trouble in the long run.
Here are a few tips to making your collaboration with a filmmaker run more smoothly.
1. Preparation
The first and most important step of creating a video in conjunction with a creative is preparation. This process is usually called "pre-production" and involves all aspects of the video directly before the actual shooting or animating.
First, you may want to research a creative's portfolio. Look at their past projects and see if they have the technical know-how to achieve what you envision and see if their style gels with your brand's. Without vetting your creative, there's no way to tell what kind of video you'll get.
Sometimes, the goals of your video may be quite clear and fit into a specific formula, such as a customer testimonial, an explainer video, or an event. Regardless, the more information you give to the team you select will result in a better, more cogent video.
Certain video production websites provide a sample questionnaire that helps to convey your goals and ideas about the video as well as your desired tone and target demographic.
You should know whether you want a live action video or an animation. Also, providing links of sample videos and other work you've seen and liked is also an effective way to communicate the style and tone of the video you want. If your team doesn't have a questionnaire, make your own and answer these questions for them. Chances are the creative won't know what your business does, so if you want them to create a video advertising your business, you'd better make sure they have a thorough understanding of what you're selling.
The better informed your team is about your business the better they can represent your brand.
2. Participation
This sort of goes hand-in-hand with preparation, but again, the more involved you are in the process, the smoother it will be. I don't necessarily mean lording over every little detail of the video, but keep timely check-ups on the progress of the video can help you catch mistakes before they are made and save you time in post-production. Make yourself available to the creative team, so they can ask any questions they might have about your needs. A good team will keep you informed on their progress, but you may need to prod them every now and then.
3. Feedback
Videos often go through several drafts before a final version is reached. Usually, it's "rough, fine, final" – a rough cut, a fine cut, and then the final cut, each presented to the client for feedback until completion. Creatives often charge fees for additional revisions and implementing those suggestions can take quite a bit of time, so organizing your comments and suggestions thoroughly will save you time and probably money, too. Get all your ducks in a row after your team presents a draft to you and respond with all of your suggestions for that specific draft. Be clear and concise and eliminate the guesswork that can lead to miscommunication.