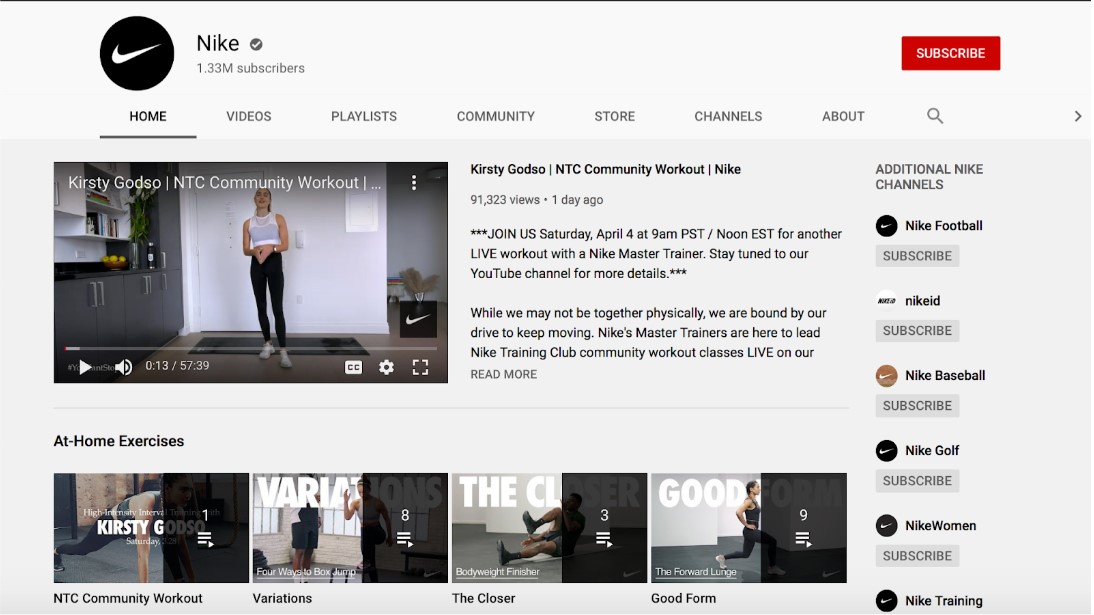 In 2020 YouTube Advertising Attracts All Sorts of Brands and Verticals
It's true. YouTube was once known as a place people go if they want to see silly videos of cats, pranks, and bloopers. But as of 2020, YouTube has grown immensely.
Don't worry, we still have all your favorite home videos…but this time, we have billions of videos suited for every single type of individual, brand, & need.
YouTube is by far the most popular video platform in the world, taking its place as the second largest search engine ever. The platform has a total of 2 billion active users worldwide who spend 1 billion hours a day watching YouTube videos.
YouTube is undeniably successful, and this is perhaps due to the fact that creating and watching content on the platform is so simple and accessible. Not only are people viewing an insane amount of video content a day, but they are also posting their own content. 500 hours of video are uploaded to YouTube EVERY MINUTE, which is 30,000 hours of video uploaded an hour, for a total of 720,000 hours of video uploaded every single day to YouTube.
Now, that gives you and your brand two options. You can either create your own brand content or capitalize on already existing content by placing your brand's ads to your targeted audience. Or both. And you wouldn't be the first business following this trend.
62% of businesses use YouTube as a platform to post their own video content to engage with existing customers as well as introduce themselves to new customers. YouTube is the second most popular channel for businesses to share video content, which is why your business needs to be taking advantage of this lucrative and pervasive platform.
You may be asking what kind of businesses see success on YouTube? We're here to tell you that there is truly an audience for every single type of business on the platform. But here are some examples of industries that particularly benefit?
Arts & Entertainment
Since YouTube is a video platform, it only makes sense that the arts & entertainment industry would see high levels of success here. From tv show highlights to movie trailers and vlogs, YouTube provides a platform for every aspect for entertainment. YouTube users often know what they're looking for and what channels will provide that, which means you can become that go-to channel or advertise on it.
YouTube makes it easy for brands to have a number of targeting segments in order to find the right audience that will boost their brand engagement. There is also a huge opportunity to get fans involved with your content by giving them videos that would not be available to them anywhere else. For example, if you're trying to market a new tv show, you could very easily build up your audience by doing interviews with the cast, vlogs with the cast, or posting blooper reels. The options are seemingly endless. 
Health & Fitness
YouTube provides people with the ability to get in shape and stay healthy without the expensive personal trainers. There are hundreds of workout and diet videos on the platform from both professionals and ordinary vloggers giving their genuine results. Users interested in building a better body or lifestyle can do that by simply looking up videos on YouTube. Therefore, if you are in the health & fitness industry, it would serve you well to add videos in the nature of workout routines, health vlogs, and cooking tutorials to your targeting strategy to increase VR. 
Consumer Packaged Goods (CPG)
Consumers want to know the quality of a product before they buy it. Nobody likes wasting time or money. YouTube solves this dilemma frequently by its content creators who make videos reviewing products. Product reviews and unboxing videos run the show on YouTube, making them prime real estate for your CPG ads.
A specific subset of product reviews and unboxing is the fashion & beauty realm. There are millions of views on videos offering make-up and clothing reviews. Therefore, beauty and fashion brands should target their ads to these channels or try to reach out to YouTube influencers to promote their product on their channels. 
Home & Garden
YouTube users love a good DIY video. We know this because how-to video consumption has grown 70% year over year on the platform. If you want to make something, YouTube probably has a tutorial for you, which is why home & garden videos are so popular on the platform. Users can learn how to build Ikea furniture to how to decorate a home to how to get rid of garden weeds all on their own.
So if your brand sells home & garden products, these videos are great places to serve your ad since you know the audience watching will be engaged and interested in your product, increasing your VR and CTR.  
Quick Service Restaurant
Brand awareness and recall are important for quick service restaurants and YouTube can help lift both metrics. For this industry, it may be harder to create your own channel and content, which is why we recommend bumper/banner ads for your QSR business. These ad types can particularly boost your brand recognition within customers with Google Ads ability to let you geotarget your ads. With this tool, you can reach YouTube accounts in your restaurant's area for a greater chance of physically bringing in customers. 
Technology & Computing
Technology and computing videos are also popular on YouTube. There are product reviews as well as tutorials. As mentioned before, unboxing reviews are extremely popular on YouTube. For example, Unbox Therapy, a channel dedicated to unboxing video reviews, has over 13 millions subscribers. The sheer popularity of unboxing videos alone should entice advertisers to place their product ads here.
And once somebody buys a product, how exactly do they use it. YouTube is home to an insane amount of tutorials, including technological skills or tasks. Tutorial videos should definitely be a part of your targeting strategy if you want to boost CTR to your product page. 
Let's take a look at the brands who use YouTube as Their Best YouTube Video Marketing Services.
1. Nike
Nike is king of YouTube, taking full advantage of what YouTube has to offer. Not only does Nike make some of the best ads in the game, but they run their own YouTube channel that encaptures a total of 1.33M followers. The brand is not only interested in ads, but cultivating their brand outside of their stores and into their customers' homes. Their channel posts workout tutorials, cooking and meal-prep tutorials, celebrity athlete highlights, and their very own original series, Margot vs. Lily. What an awesome way to get customers engaged with the brand outside of the product alone. If you're looking to make your brand an all encompassing lifestyle rather than just product based, this is a great way to do it.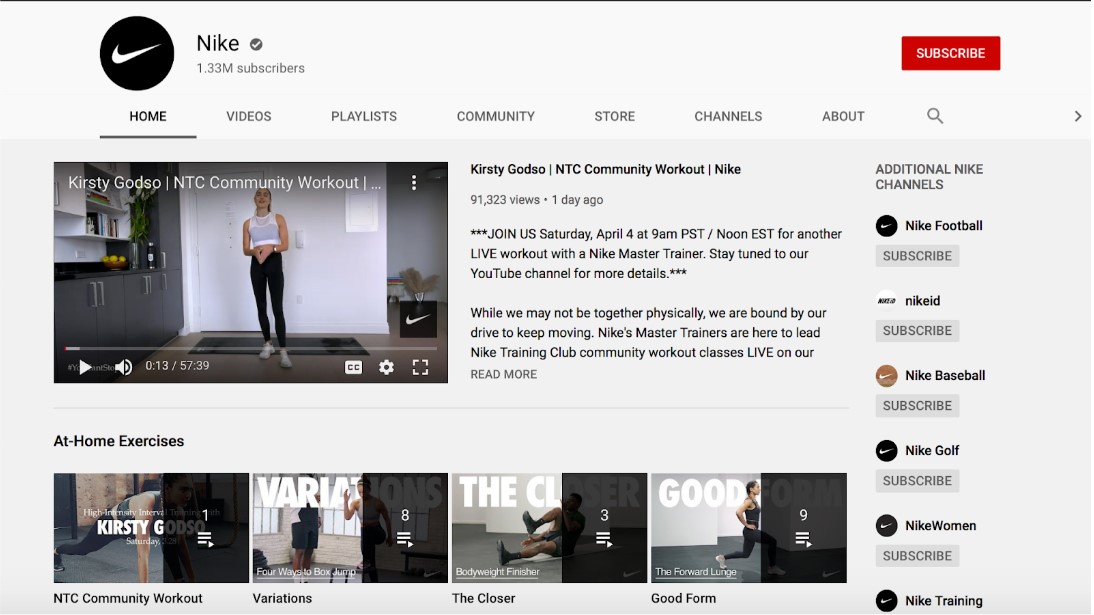 2. Sephora
Sephora's YouTube channel is home to 1.28 million subscribers and millions of more views. The make-up brand's channel consists of a wide array of video types: make-up masterclasses taught by make-up professionals, customer stories, diversity & inclusion testimonies, educational videos on skincare and hair, and more. And to enforce customer purchase, the brand plates links to every product used in their videos for easy sales.
3. PlayStation
With over 3,500 videos to its channel, Playstation has been hailed one of the top ten brand channels, with a whopping 9.74 million subscribers. There is a massive gaming world on YouTube. Video game enthusiasts spend hours watching game hacks, game plays, game reviews, and game trailers. PlayStation's channel helps gamers stay up to date on the latest games and helps them improve their gaming skills through their gameplay videos. And on every single video, is the strategically placed PlayStation logo in the upper left hand corner to further enforce brand recognition.
4. Ellen Show 
Though The Ellen Show isn't necessarily a brand, it is a perfect example of how the arts & entertainment industry can benefit from YouTube. The Ellen Show has its own channel of 37.1 million subscribers and all the channel really is is repurposed videos from Ellen's traditionally televised show. The marketing team at The Ellen Show essentially breaks up the show into short 2-10 minute clips and uploads them to YouTube as their own videos to reel in more views. This way, fans of the show can watch their favorite guests and parts in an easily digestible way. This also leaves room for new fans; now, people who wouldn't normally sit and watch a whole episode of The Ellen Show are drawn to the show in small pieces, keeping them coming back for more.
5. GoPro
GoPro is known for capturing the most riveting, brave, and fleeting bits of action. With the GoPro camera you can film a first person POV of a crazy activity like skydiving or skiing or snorkeling. Since the product is quite literally about capturing insane footage, it is obvious a YouTube channel had to be made to share all of this cool footage.
The GoPro YouTube channel has 8.7 subscribers and over 2 billion views. The channel consists of tech tutorials, GoPro users' footage, staff picks, and contests for GoPro video creators. And since most of the content is user-generated, the company was able to double their profits while keeping their marketing budget small.
https://www.YouTube.com/user/GoProCamera
YouTube is no longer a platform to overlook. Whether you want to expand your brand, making it interactive through a channel, or you just want to have your ad seen by as many of your target audience as possible, advertising on YouTube is a jackpot for you and your brand. 
Contact Best YouTube Video Advertising Agency In USA For Your Ad Management
To discover more about what we can do for your business, get in touch with our team today.  Contact us by clicking HERE