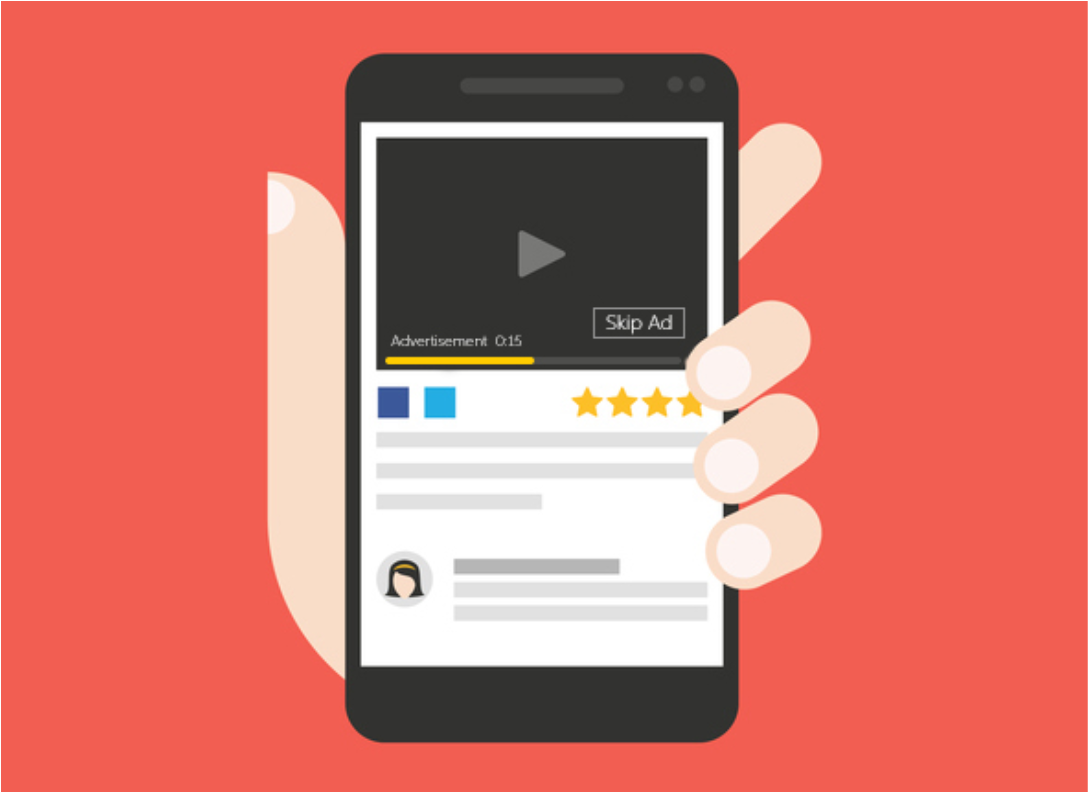 Use YouTube Pre-Roll Instead of AdWords for Better Keyword Advertising
If your company is currently using AdWords for keyword/pay-per-click advertising, you need to give advertising on YouTube a try. You can buy by keywords and run pre-roll ads in front of videos that appear off those keyword searches. We think buying YouTube by keyword can be a more effective use of your ad dollars.
Here's the deal: Both Google's AdWords and YouTube ads allow you to laser-target your audience to those likely to need your products and services. The core of AdWords only offers paid search simple text ads in the margins of your target audience's searches, whereas, YouTube pre-roll ads have several advantages that make them a better choice for your advertising spend.
What Is a YouTube Pre-Roll Ad?
Like regular YouTube offerings, pre-roll ads are videos, not static text ads. However, there is one advantage: Pre-roll ads run before the video that your target customers searched for.  For example, if someone searches for dog toys on YouTube a number of videos related to dog toys appear in the search. If you sell dog products ( let's say toys ) your pre-roll ad can play in front of YouTube videos related to dog toys.
Pre Roll Advertising on YouTube
Why are YouTube pre-roll ads better? Because your target audience now has to watch the ad before continuing to their desired video. Unlike AdWords where you hope someone will click on your ad.
Secondly, video marketing grows revenue 49 percent faster than other types of marketing. That's not all. According to a recent WordStream article, videos enjoy 12 times more shares than text and images put together.
Furthermore, with YouTube's "TrueView" ad model, you only pay when a user views your video ad to the end. If they click "Skip Ad," for instance, you've still gotten your brand in front of interested buyers, but you won't pay a dime. And, if your video ad is catchy enough to keep your audience's attention to the end, you're 23 times more likely to get them to click on your ad.
Friendly reminder – all pre-roll ads are clickable.
Cost Benefits of YouTube Pre-Roll Ads
If your business has used Google AdWords to convert browsers into potential customers, you've probably groaned every time the price goes up for your target keywords. But, if you get in on YouTube pre-roll ads now, you'll pay much less for your campaign than if you use AdWords.
According to digital marketing giant HubSpot, a typical AdWords ad costs anywhere between $1 and $2 per click ( if you are currently buying keywords – you know the drill)!
With YouTube pre-roll, you're only paying for people who watch your ads completely through to the end. Advertisers get charged on a cpv – "cost per view" – not a cpm.
YouTube pre-roll ads cost – on average – only five cents per completed view, depending on your industry and the keywords you've targeted.  A "view" on YouTube is defined as a video that is watched all the way to the end ( 100% VTR – view through rate).
How to Target Keywords for YouTube Pre-Roll Ads
Just like on AdWords, you need to target certain keywords for your ads. When people search for certain items, artists, or services on YouTube, your pre-roll appears on the relevant video content so it's important to get very narrow with the focus of the keywords you are buying.
To find keyword ideas, you'll need a YouTube keyword tool. Since YouTube hasn't come up with a proprietary tool, several companies have both free and paid versions of YouTube keyword tools. Try the free versions to see which one works best for you, before you spend money on a paid keyword tool.
The other idea if you are buying adwords take your top 20% keywords by impression and apply those words only to your YouTube campaign
Once you've decided on the right keywords, you'll need to bid on them to determine the price you'll pay per view.  You can either hire an outside firm to manage this for you or do it yourself in your adwords account.  You can access YouTube via your Google Ads account.
Finally, Target Your Ads to the Right Customers
Now that you have the right keywords, you need to target the right customers. YouTube allows businesses to choose to which audiences to show your video ads. You can target audiences by the following characteristics:
Demographics: Segment your audience by gender, age, household income, parental status, university attendance, homeownership, and other similar categories.
Interests: Choose people who have indicated that they are interested in certain topics based on their online behavior both on social media and on other sites.
Affinity and custom affinity audiences: Target people who have a keen interest in topics that relate to your products and services. With custom audiences, you can refine your targeting even more. For instance, if you are trying to reach only classical guitar enthusiasts instead of just music or guitar enthusiasts, you can zero in on exactly the customers you want to view your videos.
Life-changing events: With today's deep data analysis capabilities, you can target people who have a new baby, get engaged, get married, graduate from school, or experience other life-changing events.
"In-market" audiences: Choose to show your videos only to people who have researched products and services like your own.
Custom intent audiences: With custom intent audiences, not only can you use keywords to find the right audiences for your video, but you can also find people who are actually considering a purchase based on your chosen keywords.
Video remarketing: When a potential customer watches your video ad all the way through, it's a fairly good measure of their interest in your product. You can set your targeting preferences to show video ads to those who have already interacted with your ads.
Pretty much all of the things you are doing on other advertising platforms you can do on YouTube.
Best Pre Roll Ad Agency
With all the potential that video ads have to offer for so little investment, it's a prudent business decision to give them a try. At Innovate, we can help place your video ads in front of all the right people to maximize your brand awareness and your revenue. To discover more about what we can do for your business, get in touch with our team today.  Contact us by clicking HERE