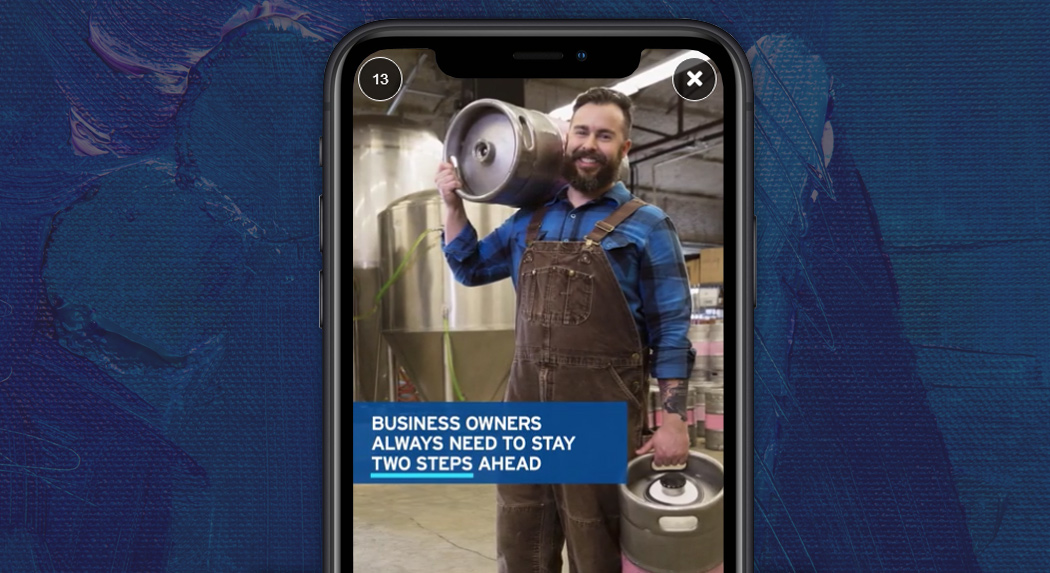 Does Vertical Video Make a Difference?
– by Summir Wilson
It's no secret that the digital world has infiltrated almost every aspect of our lives. We, as a society, have become incredibly dependent on digital devices. But out of all of those devices, mobile is king.
Now, we must make room for two kings. Because mobile is king, vertical must also be king. And we're sorry to say, but it's 2020 and there's simply no way to deny this fact anymore. Vertical video's superior effectiveness is no longer defined by a basis of opinion, but a basis of proven statistical fact.
So, what does this have to do with advertising?
Everything.
Vertical video is here to help your pre-roll ads achieve levels of success that square (1:1) or landscape (16:9) video never could. And we're here to show you the proof. Let's discuss the 5 ways vertical video advertising can help your ad campaigns reach their full potential in a wildy fresh digital era.
1.

Vertical is Second Nature… And it Just Makes Sense.
People value ease, convenience , & accessibility, which is why we hold our phones vertically — it only requires one hand, minimal effort, and clickable range our thumbs can reach. We text, email, socialize, bank, and web search vertically. We can multitask this way. It's become second nature. Studies suggest that we hold our phones vertically 94% of the time! And as an advertiser, what could be considered most important aspect of vertical mobile use, is the fact that a HUGE percentage of time spent on social media is done on a mobile device; a 2016 comScore study discovered that nearly 80% of social media use is done on a mobile device, 61% on smartphones specifically. This should matter to you, because even if you are not on social media, the consumers you are trying to reach are.
In the words of Daily Mail North America Ceo, Jon Steinberg, flipping your screen to view an ad is "totally stupid" because "if a video is vertical and a little bit compelling, you're going to keep watching. It intuitively makes sense." 
2.

 It's Bigger & Better.
Think of vertical video ads as real estate. The larger your property, the more potential for revenue. The better it looks to a passerby, the more likely they are to stop, stare, & visit — a potential sale.
When your advertisement goes vertical, it takes up more space — not only on a user's phone, but also on a user's mind, guaranteeing a more lasting impression. Vertical video takes over a mobile devices' entire screen, which means less distractions for viewers and an increased opportunity to reel them into whatever it is you're selling.
And when the average daily time spent on social media across the world is 144 minutes, that means you have the opportunity to have your ad take over a viewer's entire screen for any one of those 144 minutes. That's a lot of minutes and a hell of a lot of vertical video real estate.
3.

Your Engagement Rates Will Sky-Rocket (Higher CTR)
But, it's not just about taking space for the sake of taking up space. We want our viewers to ENGAGE with our ads. Data shows vertical video can do just that.
According to Research from Wibbitz, vertical videos "attract almost four times more engagement than square videos on Facebook, and 2.5 times more on Twitter." Furthermore, they found that on Facebook, vertical videos are appearing on viewer's apps 13.8% more often than square videos. The icing on the cake? Vertical videos on Facebook get 90% more visibility rates than any post with a simple embedded image.
Facebook itself even claimed that their test campaign proved that vertical videos reach 58% more people than horizontal videos. As for Snapchat, the vertical videos, which are viewed more than 10 billion times a day, are watched 9x more than their horizontal counterparts.
A study by Facebook Business claimed that 65% of consumers consider brands that advertise with vertical video 'more innovative,' which especially resonates with us, here at Innovate Media.
In our own A/B testing, we have seen results that further prove pre-roll vertical video is king. When serving advertisements for SoCalGas, we ran A/B tests between a horizontal and vertical ad. We found that our vertical video ads achieved a CTR of 0.11% while our horizontal ad only reached a 0.05% CTR. Vertical is king. Innovate Media is also proof that you don't have to lose interactivity with vertical video as we are highly successful due to our ability to marry vertical video with interactivity. Not only are we serving vertical video ads, but we're serving vertical video ads that PERFORM, adding overlay, end cards, and custom skins.
4.

Less Skips, Higher VTR.
Less viewers will skip through your vertical ad than your horizontal ad. According to MediaBrix, only 30% of viewers turn their phone horizontally to view an ad, and even when they do so, only view it through 14%, while vertical social media ads gathered a completion rate at a soaring 90%!
Referring back to Innovate's own research, our vertical ad ( as a pre-roll ) for SoCalGas achieved a VTR of 69.12% in comparison to our horizontal ad that fell behind at a VTR of 65.48%. 
5.

Everybody is Doing It.
This is one scenario where if all your friends jumped off a cliff, you would want to too. But instead of death, you're jumping into an exciting new format that will only benefit your company.
Vertical video has vastly spread outside of social media platforms, appearing in publishers such as The Washington Post, BBC News, Vox and Condé Nast, all of which have very valuable audiences. And with 53% of web traffic occuring on a mobile device, this format has become so pervasive that mega companies Google and Facebook are diving in to capitalize on the vertical wealth.
In short, you're going to want to get in on this. It's simply a no-brainer.